Bloating… constipation…gas – those are the tell-tale symptoms of methane dominant SIBO (Small Intestine Bacterial Overgrowth), otherwise known as Intestinal Methanogen Overgrowth (IMO).
Methane SIBO is one of the trickier forms of SIBO to treat, and those with methane SIBO often require multiple treatment rounds to resolve.
That's why today, I want to share some of the tested-and proven supplements that work best for methane dominant SIBO.
What Is Methane SIBO?
SIBO is a condition caused by overgrown bacteria in the small intestine. The bacteria consume the carbohydrate foods we eat, and ferment them into gas. Different types of bacteria produce different types of gas – and it is the gas that causes the symptoms of SIBO.
Methane SIBO is a little bit different in two key ways, however:
#1 Methane is produced by archaea, not bacteria
Technically, the microscopic organisms that produce methane gas are archaea, not bacteria. But like bacteria, archaea are a normal part of the gut microbiome.
#2 Archaea can overgrow in the large and small intestine
Thanks to the pioneering work of Dr. Mark Pimentel, MD and his team at Cedars Sinai Hospital in Los Angeles, we now know that the symptoms of methane SIBO can be caused by overgrowth in the small or large intestine
These 2 key differences are why methane SIBO has another name: Intestinal Methanogen Overgrowth. More on that here.
The names Methane SIBO and IMO are often used interchangeably. Here at SIBO SOS®, we use both names. In this post, we'll call it methane SIBO.
How Do I Know If I Have Methane SIBO?
The most common way to diagnose methane SIBO is with a SIBO breath test.
According to Dr. Allison Siebecker, ND, generally a 3-hour conventional breath test with:
Methane level below three is negative

Methane level between 3 and 9,

with constipation

, is considered positive

Methane level above 9 is considered positive (

with or without constipation)
Some labs use slightly different numbers for interpretation.
How Can We Treat Methane SIBO?
Dr. Siebecker recommends one of these treatments for methane SIBO:
Rifaximin

plus

neomycin (requires a doctor's prescription)

Rifaximin

plus

metronidazole (requires a doctor's prescription)

Allicin (the active component of garlic, found in the supplement Allimed) plus one other herb: berberine, oregano, or neem

Elemental Diet

Atrantil (alongside another treatment or alone for symptomatic relief)
Treating Methane Symptoms
In addition to treating the overgrowth of archaea directly with one of the above treatments, those with methane often have specific symptoms that they need relief from:
Bloating

Constipation

Gas
For bloating and gas, Gas-X, activated charcoal, and (my favorite) Atrantil are all recommended by Dr. Siebecker.
For constipation, Dr. Siebecker recommends adding more fat to the diet, magnesium oxide, and a probiotic without added prebiotics, like MegaSporeBiotic.
How To Save Money on Methane SIBO Supplements
I know exactly how expensive treating SIBO can be – which is why one of my TOP priorities is helping folks with SIBO save money on the supplements that can provide so much relief!
One of the BEST ways to save money on supplements is by using our exclusive access to Fullscript – a dispensary that provides access to the best supplement and wellness products as discounted prices!
Normally, only practitioners have access – but Dr. Siebecker has been kind enough to share her code with us!
You can get 20,000 professional grade supplements ALL at a discount. Click here to start saving on supplements and products now and get free shipping on purchases over $50.
And… here are some of the exclusive discounts I have rounded up for these top gut health supplements:
>>> Save 15% on MegasporeBiotic
Normally a practitioner is also required to order directly from Microbiome Labs, but Kiran has graciously opened ordering to our community.
If this is your first order, start with this link to register as a patient, enter SIBOSOS in the patient direct code box, CLICK HERE: Microbiome Labs (this is the first step – you can't order directly from Microbiome Labs unless you do this).
Then select the products and enter coupon code "DIGESTIONSOS" at checkout for 15% off your FIRST order.
>>> Up to 38% Off Atrantil (Lowest Price ANYWHERE!)
I am so happy to share that we can offer the absolute lowest price anywhere on Atrantil exclusively to the SIBO SOS® Community!
Save 25% on one bottle, 33% on 3 bottles, or 38% on 6 bottles – it's an amazing deal on one of the very best supplements for methane SIBO!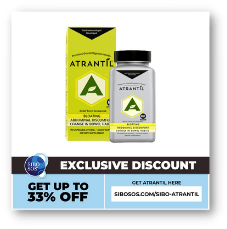 Hang In There!
Methane SIBO can be really difficult to treat, and I know sometimes it can feel like nothing will ever work.
If you've tried one treatment for methane SIBO without success, don't be afraid to try another: not every treatment works for every person.
And remember that often it takes more than one round of treatment for success, too!
If you're looking for more guidance, be sure to check out the complete SIBO healing course I co-created with Dr. Allison Siebecker: The SIBO Recovery Roadmap.