The SIBO Recovery Roadmap® Course for Patients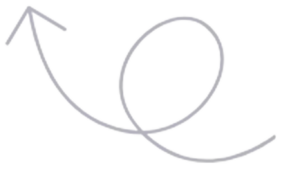 Dr. Allison Siebecker, ND
Shivan Sarna, SIBO author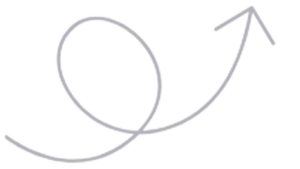 Are You Struggling with Digestion Issues That Aren't Going Away or Getting Worse?
1 out of 10 people experience digestive pain after meals. Specifically, digestive pain that can't be resolved through diet or traditional medicine alone.

Here's the good news...
Based on her clinical experiences with thousands of patients (and as a SIBO patient herself), top SIBO specialist, Dr. Allison Siebecker has developed and validated a proven method for treating SIBO.
It's a system that WORKS to…
The SIBO Recovery Roadmap® Course
An online course with the answers you need to identify, treat, and beat SIBO/IMO (Small Intestine Bacterial Overgrowth / Intestinal Methanogen Overgrowth)​ Taught by award-winning SIBO specialist, Dr. Allison Siebecker, ND and hosted by patient advocate and author, Shivan Sarna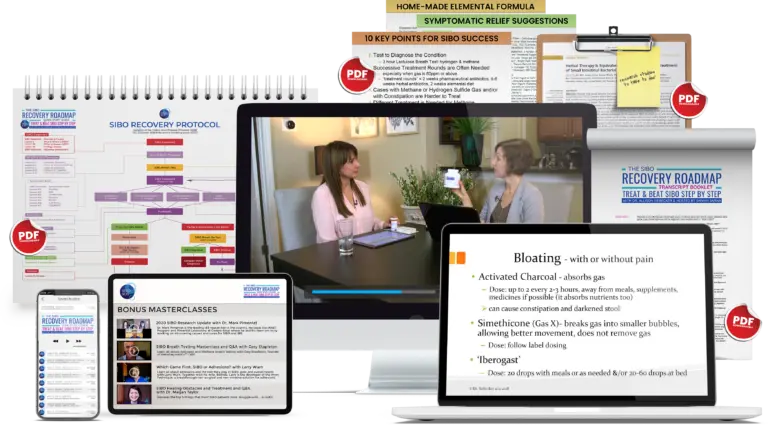 A Note from Your Instructors:
We know exactly what it's like - because we've been there ourselves!
We both developed SIBO when we were children, and suffered through decades of not knowing what was wrong with us.
In medical school, when Dr. Siebecker recognized that she was indeed suffering from SIBO, her life's mission became clear: to help other patients find lasting relief from their symptoms. 
During her own quest for answers,  in 2015, Shivan found Dr. Siebecker and for the first time, saw the light at the end of the tunnel.
Because Dr. Siebecker had a plan. A proven plan that she had used with thousands of other patients.
Dr. Siebecker is not only an award-winning, world-renowned SIBO specialist… 
…she is also Shivan's doctor – and now her friend and collaborator in creating resources for SIBO patients worldwide.
Dr. Allison Siebecker, ND, MSOM, LAc
Allison Siebecker, ND, MSOM, LAc, is instructor of Advanced Gastroenterology, as well as former Medical Director and Co-Founder of the SIBO Center for Digestive Health at the National University of Natural Medicine (NUNM). She is IBS faculty for the GI Health Foundation and is the Co-Founder of the NUNM SIBO Symposium and GI Conference- continuing education for physicians. She has specialized in the treatment of SIBO since 2010, is an award winning author and creator of the free educational website siboinfo.com.
Shivan Sarna, SIBO SOS® Host
After a lifetime of digestive problems, I was diagnosed with SIBO (Small Intestine Bacterial Overgrowth) in 2015. I was so excited to finally have a name for the symptoms that made me miserable – but I was quickly very frustrated by how hard it was to get access to reliable SIBO information, or even an appointment with a doctor who had experience treating SIBO. I set out to get answers about SIBO for myself – but along the way, I met hundreds (and then thousands) of other people like you who had the same problems: How do we find experts who really understand SIBO? What do we do if we can't travel to see one of these experts? Will we have to suffer forever?
I created SIBO SOS® to solve this problem. It's like attending a medical school class and having an office visit all rolled into one. I'm alongside you for support, guidance, and a shoulder to lean on. I've been where you are today, and it would be an honor to help guide you forward. Let's kick SIBO's butt together!
Reclaim Your Life Through Proven Methods & Techniques
In this course, Dr. Allison Siebecker and Shivan Sarna will guide you through the Recovery Roadmap® step-by-step, so you know exactly what to do!
We update the course frequently as new research, treatments, or supplements are showing hope.
"The SIBO Recovery Roadmap® Course is THE best, most comprehensive course/program of information on SIBO anywhere! I am forever grateful to Shivan and Dr. Siebecker for their knowledge and expertise in providing this information and continual updates as they occur.
The Q&A's that are offered, especially the opportunity to submit a question prior to the live session, are priceless!
It's the gift that keeps on giving!" ~ Fonda
I am grateful beyond words for what I have learned from the both of you! I wish my doctor was aware of this tool. You should see all the notes I have taken!
You really are making a difference, especially in my SIBO adventure – and I'm sure for many. Thanks for helping me get well… one step at a time. God bless you both!!!
~ Joann
Watch this Quick Preview of the Roadmap
You Get Access to 40+ Video Lessons + 120 Slides
Lesson #1: What & Where is SIBO
A quick anotomy lession yo get you oriented
Lesson #1.5: SIBO Types - Updated
Lesson #2: Roadmap Validation & History
Why we KNOW our roadmap works!
Lesson #3: Roadmap Overview
Walks you through each step of the roadmap. You're not alone!
Lesson #4: When to Use the Roadmap: 3rd Line Therapy
Understanding what each level of treatment is, and when to use it
Lesson #5.1: Levels of Treatment
How to treat your symptoms vs. the actual overgrowth (yes, this matters!)
Lesson #5.2: Underlying Causes
Lesson #6: Chronic vs. Acute and the 3 Others
Learn if your SIBO is likely to be "one and done" or require on-going care
Low iron is a common SIBO complication. Here's what to know
Lesson #8: Hormones & Finding a Good Hormone Dr
How to assess your risk of hormone imbalance and get the help you need
Why it's so important and how to get more, better sleep
Lesson #10: Treatment of Symptoms
Why treating symptoms isn't a "band-aid" – it's a must-do
Treatment & Prevention Masterclass and Q&A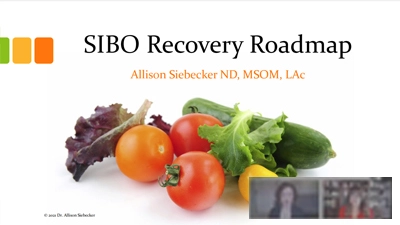 Lesson #11: Bloating – Symptomatic Treatment
Quick fixes for the #1 symptom of SIBO
Lesson #12: Pain – Symptomatic Treatment
Feel better fast with these suggestions
Lesson #13: Constipation – Symptomatic Treatment
You need to be going every day. Here's how to do it safely.
Lesson #14: Diarrhea – Symptomatic Treatment
Stop running to the bathroom and get back to solid BMs
Lesson #15: Nausea – Symptomatic Treatment
Tried-and-true fixes for feeling nauseated to start using today
Lesson #16: Acid Reflux – Symptomatic Treatment
Here's what you can try safely to manage heartburn
Lesson #17: Indigestion – Symptomatic Treatment
Digestive enzymes, bitters, and probiotics are some options discussed
Lesson #18: When to Suspect SIBO
Key signs and symptoms to look for
Exactly WHAT test to order, how to get it, and how to do it right
Lesson #20: Test Interpretation
Learn what your crazy-looking test results mean
Learn the role diet plays in treating SIBO and what options you have
Diet Masterclass and Q&A with Dr. Allison Siebecker
Lesson #22: Antibiotics – What Works Best?
Should you go all-natural or prescription?
Lesson #23: Herbal Antibiotics
Options for herbal antibiotics, including specific brands and dosing
Lesson #24: Pharmaceutical Antibiotics
Which are used, why they're safe, and tips for saving on the cost
Lesson #25: Elemental Diet

Learn about this unconventional but highly successful treatment
Lesson #26: Methane & Hydrogen Sulfide Treatments
Special tips for treating these tricky types of SIBO
NEW: Lesson #26.5 Hydrogen Sulfide Testing Updates
NEW: how to get tested for hydrogen sulfide SIBO, and what your results mean
Lesson #27: What to Expect From Treatment
How long treatment will take, risk of relapse, and more
Learn about the #1 tool for preventing SIBO relapse!
Prokinetics What's in the Expert's Toolkit Masterclass
Lesson #29: If You Are Not Better
This doesn't mean you failed! Here's what to do next
Lesson #30: Considering Other Diagnoses
Could it be something besides SIBO? Clues to look for
Lesson #31: If You're Better — Prevention
What to do to keep SIBO from returning after successful treatment
Feeling bad again? Here's what to do right away
Underlying Causes & Q&A with Dr. Allison Siebecker
Let's explore the pros and cons of probiotics for SIBO patients
Lesson #34: The Importance of Timing in SIBO Treatment
Timing can make or break your treatment outcome – here's how to do it right
Lesson #35: Finding a Doctor
Need more support? Tips for finding a great doc to help
Lesson #36: Final Tips for Success
Dr. Siebecker's tried-and-true advice. You can do this!
Multiple, Ongoing LIVE Q&A Sessions
Immediately get access to the entire course, so you can easily find the info you need. Absorb the training at your own pace or follow our 4-week suggested schedule. This is like re-taking the class over again anytime you want! Plus, we keep the information in this course updated, so you can "stay-in-the-know" about SIBO research and breakthroughs!
Unlimited Access & Updates
When you enroll for the SIBO Recovery Roadmap® Course today, you also get your students-only invitation to the ongoing Live Q&A Sessions we host throughout the year! Get expert answers to your SIBO questions from award-winning SIBO specialist, Dr. Allison Siebecker.
"When I heard Dr. Siebecker say, 'We have to take measures for relapse prevention,' it was a real awakening for me. I had never heard a doctor talk about prevention! " ~Steve
"I was lost and needed a roadmap back to my health. What I love about this course is that it breaks down all the things you need to start your healing journey." ~ Conu
What You Need is a Step-by-Step Plan
Not just a one-size-fits-all plan – but a customizable approach that can work for anyone, even tough cases.
I made a promise to myself that if I figured out my SIBO, I would find a way to help other people get the information they need, too… and that's how the SIBO Recovery Roadmap® Course was born.
I asked Dr. Siebecker if she would create the course curriculum and she enthusiastically said yes and continues to update the content!
Here's your chance to learn what has worked for thousands of patients.
 ~ Shivan Sarna, SIBO patient advocate & author
A huge THANK YOU to you Shivan! Because of you and your dedication to education about SIBO/IMO, I am finally really experiencing RELIEF for the first time! This resource is the cornerstone of me getting proper care for my IMO! And the resources you and Dr. Allison Siebecker have provided allowed me to navigate these difficult and confusing waters.
Best of all… it's allowed me to be an EXCELLENT ADVOCATE for myself. Knowledge is power!
So, again thank you for the work you are doing!!!!!!!!
~ Nic
This course has been a lifesaver! I've been struggling with SIBO for years now, and I've gone down so many rabbit holes. But not only did I learn new things from this course (despite years and years of research), but I've also identified new connections with the symptoms I'm having.
One of the most important things I learned from this course is how to make the best out of an appointment with my doctor. I now know how to communicate my health issues more effectively to get results faster and easier.
~ Marlowe
Plus! Bonus Video with Gut Health Expert, Larry Wurn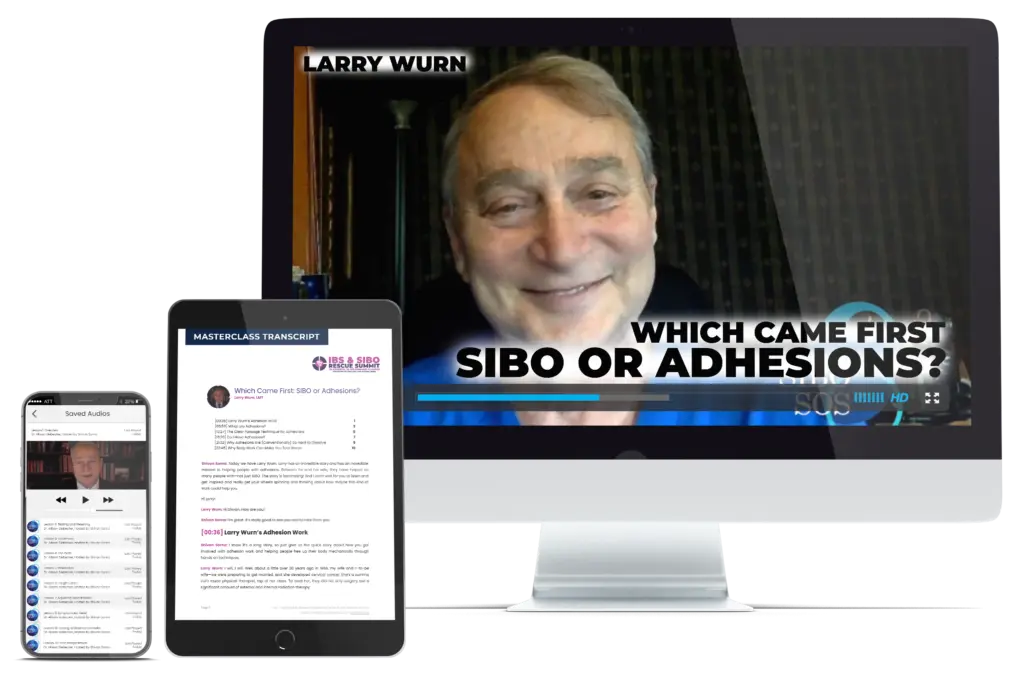 Which Came First: SIBO or Adhesions with Larry Wurn ($59 value)
In this Masterclass, you will learn about:
Adhesions and the role they play in our health
How can adhesions cause SIBO and even infertility
How to address adhesions and why surgery can set you back
What childhood activity could have caused your adhesions
And if you purchase by Jan 13th, you'll also get...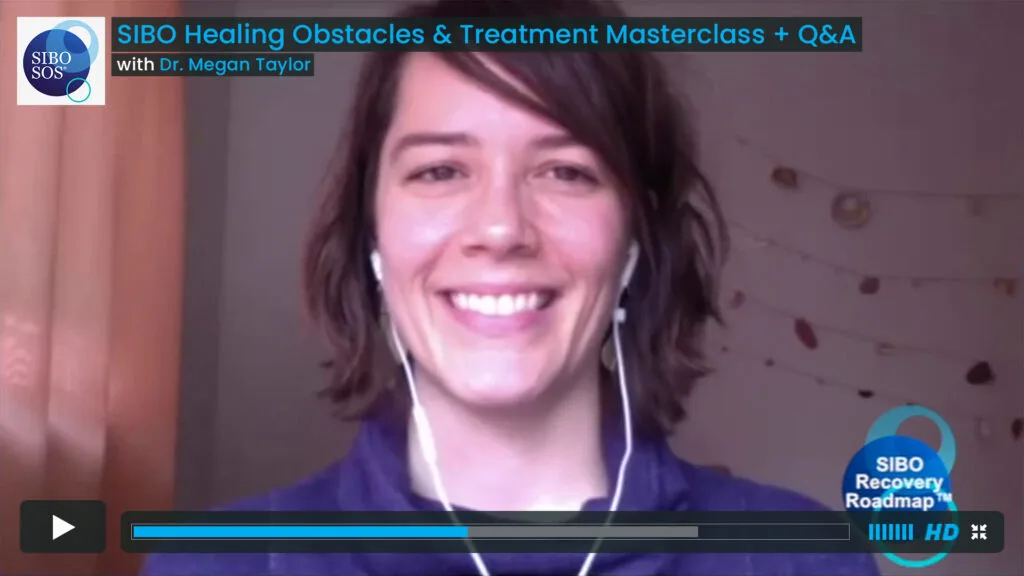 SIBO Healing Obstacles & Treatment Masterclass + Q&A with Dr. Megan Taylor
What You'll Learn:
3 Things that SIBO Patients often miss and/or Struggle with
Missing out on easy interventions
Restricting diet for too long (for most)
Letting anxiety dominate (and losing one's identity)
Vegetable Side Recipes (& More) with Riley Wimminger
Riley Wimminger specializes in providing sensible nutrition solutions for improving the quality of life of individuals with chronic digestive disorders. Her nutritional counseling services begin with gaining a thorough understanding of clients' health concerns, then addressing those concerns through one or more of the following: customized dietary advice, healthy eating guides, food/symptom journal analysis, meal planning tips, recipes, grocery store tours, supplement recommendations, lifestyle tips, and more.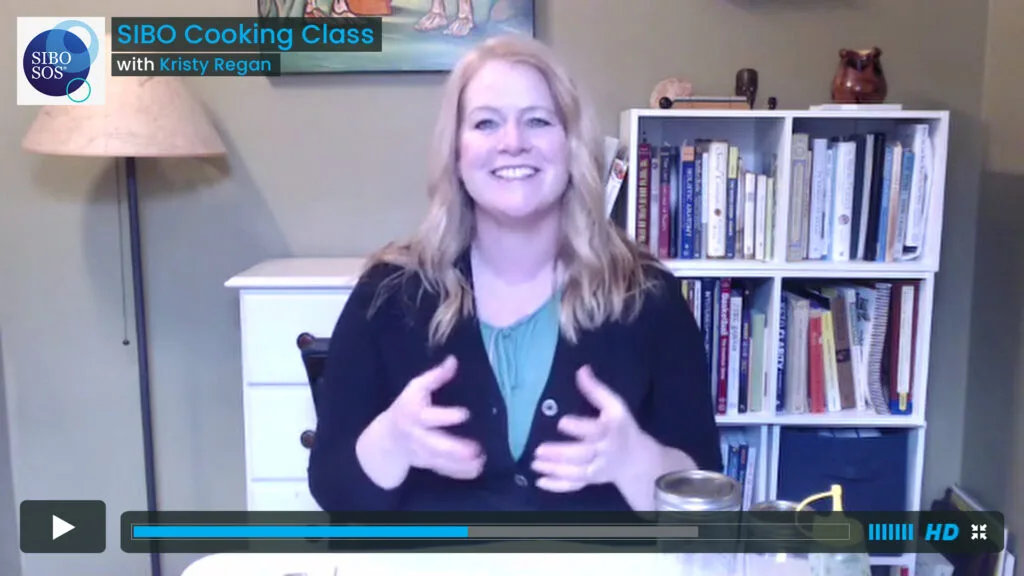 SIBO Cooking Class with Kristy Regan, MScN
Kristy combines nutritional therapies, lifestyle education and counseling. She is the author of the Amazon-bestselling book "The SIBO Diet Plan."
Choose How You Want to Participate
Looking for the best savings?
Need additional support? Choose EXTRA!
Own the entire course + all the bonuses
  Get $201 off your course fees
Own the entire course + all the bonuses
  Get $500 off your course fees
  Plus! 4 EXTRA group coaching sessions
  Plus! 8 EXTRA masterclasses ($472 value)
What's the Difference Between the 2 Ways to Enroll?
Multiple, Ongoing LIVE Q&A Sessions
120+ Detailed Course Slides + The Quick Start Guide
Printable Handouts, Guides & Research Studies
Instant Unlimited Access to All Course Materials
Bonus! Cooking Classes from SIBO Nutritionists
Bonus! Adhesions Masterclass with Larry Wurn ($59 value)
BONUS! Dr. Siebecker's Underlying Causes Masterclass ($59 value)
Bonus! Dr. Siebecker's SIBO Diets Masterclass ($59 value)
Bonus! Dr. Siebecker's Treatments Masterclass ($59 value)
Bonus! Dr. Siebecker's Prokinetics Masterclass ($59 value)
4 Group Coaching Sessions with Dr. Siebecker & Shivan (priceless!)
BONUS Masterclass! Bacterial Infections & Parasites with Dr. Hill ($59 value)
BONUS Masterclass! Stool & Other Testing with Dr. Gurevich ($59 value)
BONUS Masterclass! Mold & SIBO Part 1 with Dr. Jill Crista ($59 value)
BONUS Masterclass! Mold & SIBO Part 2 with Dr. Jill Crista ($59 value)
BONUS Masterclass! SIFO & SIBO with Dr. Ami Kapadia ($59 value)
BONUS Masterclass! SIFO, Candida, & Co-Conditions w/ Dr. Rao ($59 value)
BONUS Masterclass! Constipation with Dr. Kimball ($59 value)
BONUS Masterclass! SIBO & Lyme Disease with Dr. Tom Messinger ($59 value)
You might be asking yourself...
Is the SIBO Recovery Roadmap®
Course Right for You?
Frequently Asked Questions
To sum up, here's what you get...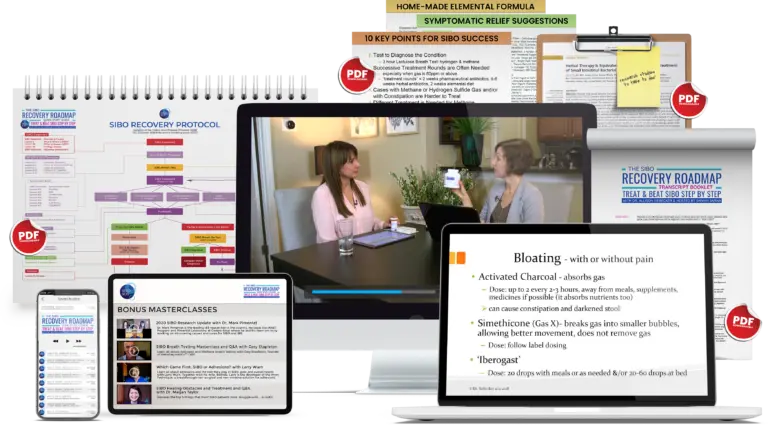 Multiple, Ongoing Live Q&A Sessions

– Dr. Allison Siebecker and Shivan Sarna answer your questions live in a small group

40+ Video Lessons

– Dr. Siebecker and Shivan take you through the roadmap step-by-step so you know what to do next

Instant Unlimited Access

– Once you're enrolled, you have instant access to all the course materials online anytime, anywhere, and on the go

Searchable Transcripts

– Download, print and search the transcripts to find the hot topic you need in the moment

SIBO Essentials: 8 Lessons

– an essential course to get relief now – this wildly popular basics course is included to set the foundation

Bonus Content

– Printable handouts, guides, and research studies + bonus video classes

Updates

– Unlike other courses, updates are added as promising new research and breakthroughs for real relief are released.
This website and all content is for educational purposes only and is NOT intended to diagnose, treat, cure, or prevent any disease or psychological disorder. Always consult your physician or other qualified healthcare provider with your questions about any medical condition and before you start or begin using any diet, dietary supplement, herbal remedies, or other health program. By using our website and participating in our summits, offers, or trainings, you agree to our Privacy Policy, Terms and Conditions of Use & Disclaimers. SIBOSOS® is a registered trademark of Chronic Condition Rescue, LLC and may not be used without prior approval by Chronic Condition Rescue, LLC. SIBO SOS® does not provide medical advice, diagnosis or treatment.