#1 NEW RELEASE IN FOOD ALLERGIES, GASTROENTEROLOGY, ORGAN DISEASE DISORDERS
Fix the Real Cause of IBS, Bloating, and Weight Issues
SIBO (Small Intestine Bacterial Overgrowth) is an epidemic. With Healing SIBO, find out if you have it, treat it, and heal it.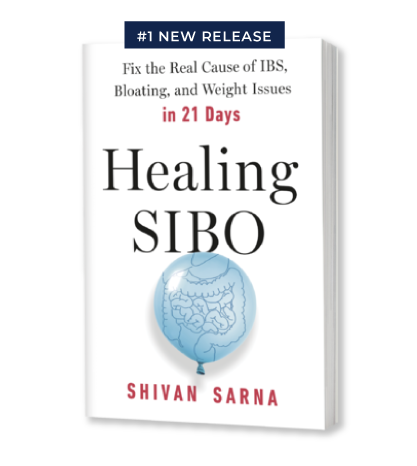 FIND EVERYTHING YOU NEED

To Treat & Beat SIBO In One Place
More than 40 gut-loving recipes so you know exactly what to eat
Pharmaceutical and herbal treatment approaches
Warm, no-nonsense, useful advice from a SIBO patient who has been there herself!
Healing SIBO is your roadmap to gut recovery!
These Special Gifts are yours FREE when you order the book today!
➔ On-Demand Access to the SIBO Essentials Series
Part of the SIBO Recovery Roadmap Course ($79 Value)
which includes
ALL 8 Lessons to SIBO Resolution with Shivan Sarna & Dr. Allison Siebecker
Lesson 1 Overview & Causes
Lesson 2 Testing
Lesson 3 Treatment
Lesson 4 Diet
Lesson 5 Symptomatic Relief
Lesson 6 Prokinetics
Lesson 7 Tough Cases
Lesson 8 Adjusting Expectations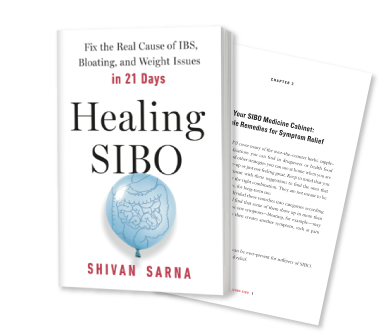 ➔ Instant Access to Chapter 3
Your SIBO Medicine Cabinet: 

Simple Remedies for Symptom Relief
➔ The Digital Mini-Recipe Book
Includes 4 Recipes from Healing SIBO

to make today.
2 Simple Steps to Claim Your FREE Gifts
Order Healing SIBO from one of the
booksellers below and return here to fill out the form below.
in Food Allergies, Gastroenterology
Organ Disease Disorders
Receive your free gifts by email today. Submit your order details below to register…
"I love it. I think Shivan did a marvelous job describing SIBO and she is helping a lot of patients. So keep up the good work. It's terrific."
Dr. Mark Pimentel, M.D.
Director of Pimentel Laboratory at Cedar-Sinai and one of the World's Leading SIBO/IBS researchers
"By combining cutting-edge technical and medical information from
health experts with her own expert advice and insights as a patient
who has been there herself, Shivan has created an invaluable resource
for the millions of people struggling with SIBO. I highly recommend
Healing SIBO."
Dr. Allison Siebecker, ND
Co-Founder and Former Medical Director of the SIBO Center for Digestive Health at NUNM Clinic and has Specialized in the Treatment of SIBO
"Shivan has done more to help SIBO patients understand and heal their condition than anyone. Her mission is to educate the public on the most cutting edge information about SIBO treatments and this book is no exception. This is your one-stop guide to everything you need to know about living with and treating SIBO."
Dr. Ilana Gurevich, ND
Board-Certified Naturopathic Physician and Acupuncturist
"Healing SIBO is just like Shivan – very organized, full of insight, painstakingly researched, highly practical and imbued with warm-hearted fun."
Dr. Steven Sandberg-Lewis, ND
Practitioner of Naturopathic Gastroenterology
"Ms. Sarna has written an absolute gem of a book. As a sufferer of SIBO herself she includes tips and tricks for understanding SIBO and IBS from the inside out. She takes an incredible amount of information that can be overwhelming and turns it into an easily digestible and incredibly rich resource for not only the SIBO patient but also for physicians who need to understand what options their patients have for diagnostic testing and treatment of this disorder. Ms. Sarna has taken her access to interviewing all of the top clinicians and researchers in the SIBO landscape and has synthesized that information in a way that the reader can access all of the most comprehensive and up to date ideas around testing, treatment and understanding of their health picture. This is a must-read."
Dr. Anne Hill, ND
Oregon licensed Naturopathic Physician, a peer reviewed Professional Herbalist and Craniosacral Therapist
"Healing SIBO is an amazing contribution to those diagnosed with SIBO as well as those who are just beginning to address their gastrointestinal issues. Shivan Sarna has worked with the best doctors, nutritionists and other healthcare practitioners in the SIBO community for years and it shows in the wealth of information that she presents in this book. She offers practical advice and breaks down the intricacies of healing from SIBO to make it accessible to everyone."
Kristy Regan, MScN
Holistic Nutritionist, with her own multiyear journey with SIBO, specializing in Therapeutic Diets for Gastrointestinal Disorders
"Healing SIBO contains the practical steps a patient needs to take to get well. Shivan has interviewed and distilled the best practitioners in SIBO world to create a book that any IBS person should own. After reading this you'll end up knowing more about SIBO than 99% of doctors. Which is very important because healing from chronic conditions takes a multifactorial approach that Shivan lays out. If you think getting rid of SIBO is just about the right tests and killing protocols you're missing 50% of the getting well map."
Steven Wright
Health Engineer, Author and one of the Founders of HealthyGut.com
"Shivan Sarna's new book, Healing SIBO, has a powerful dedication at it's very beginning: "To anyone who has ever had a medical mystery." Having spent over a decade as a Naturopathic Doctor treating medical mysteries, I say this book – a guidebook to overcoming SIBO – is long overdue. SIBO has been a medical mystery disrupting millions of lives around the world. In addition to a plan to eradicate SIBO, this book powerfully outlines the hurdles. Like so many chronic illnesses, one of the main obstacles is that it mirrors the symptoms of many other disorders, leaving it under diagnosed and untreated. Make no mistake, the domino effect of SIBO is not just a digestive inconvenience or bloating, it is also often responsible for food allergies, as well as simultaneously causing weight gain AND malnutrition. In a world where Google floods us with more information than we could absorb in a lifetime (never mind discerning what is accurate and relevant to your own health journey), Shivan Sarna has broken down the causes, the condition, and most importantly, provided a step-by-step simple pathway back to health. Healing SIBO is a must-read for anyone navigating SIBO, digestive issues, or unexplained symptoms."
Dr. Christine Schaffner, ND
Board-Certified Naturopathic Doctor
Hi. I'm Shivan Sarna,
SIBO Patient & Founder of SIBO SOS®
This book is the information I wish I had when I was first 
diagnosed with IBS!
I'm Shivan Sarna and over the past 20 years you may have 
seen me as a TV Host (especially if you like shopping). So 
how did I end up at SIBO SOS?
I want to save you time, energy and money by giving you 
the expert answers in a concise way. Get the answers you 
need so you can start healing and get back to life!